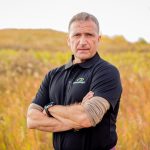 Anthony Mainolfi is a registered massage therapist who graduated from a 2200 hour massage therapy curriculum- accredited program at Sutherland Chan in Toronto, Ontario. He spent six years as a massage therapist at the Banff Springs Hotel and before working in Banff, practiced massaged therapy in Vail, Colorado.
Anthony has treated a wide variety of sports-related injuries and firmly believes that massage therapy can treat many conditions, either simply for relaxation, to increase a calm inner body balance, or to reduce muscle tension and stiffness by using deep therapeutic massaging techniques.
Anthony's experience and knowledge will cater to many different body types and abilities ensuring no matter what condition you may have, he can help, through the practice of massage therapy.
Anthony will be able to help alleviate pain and symptoms and looks forward to helping you achieve your health and wellness goals!
---
To book an appointment with Massage Therapist Anthony Mainolfi, call SW Massage and Wellness Centre at (403) 931-4829 or Request Your New Patient Appointment Today!